What is the Washoe County Medical Society?
The Washoe County Medical Society is a non-profit entity incorporated in the state of Nevada. The Washoe County Medical Society is commonly referred to as "WCMS".
The Washoe County Medical Society serves as a primary source of health related information, we seek to educate our members and the citizens of Northern Nevada. We strive to maintain the highest standard of ethics and medical care throughout our community.
As a professional organization, we shall nurture these goals by cooperating with the American Medical Association, the Nevada State Medical Association, and other County Medical Societies and Alliances in the state of Nevada.
---
Organizations
---
Member Spotlight WCMS Salutes Members' Achievements
Kevin Murphy, MD, Recipient of ACP Chapter and NSMA Awards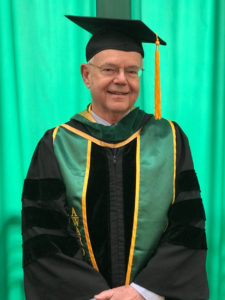 F. Kevin Murphy, MD, is a much-recognized physician these days. In September he received NSMA's Community Service Award for providing outstanding community service that goes above and beyond the call of professional duty. In April Dr. Murphy received the American College of Physicians Nevada Chapter Award for 2018 during the ACP Annual Convocation.
Speaking of his NSMA award, Dr. Murphy noted, "We are advocates for public health, we have a special connection to our communities in that we have a unique relationship with those who suffer from the diseases we are committed to preventing." He concluded, "This award represents a recognition and honor or all who share this commitment."
The American College of Physicians is an honorary association for internal medical specialists. The ACP Chapter Awards are given to physicians who demonstrate adherence to high ethical standards, involvement in the community, exceptional clinical skills, and inspiring teaching abilities.
About receiving the ACP award, he stated that he was "completely surprised but profoundly honored to be so acknowledged by respected colleagues." In infectious disease, a detailed understanding of each patient and the living context of the illness is essential to both diagnosis and effective treatment. He stresses the importance of listening attentively to the patient before expounding one's own perceptions of the illness, in that way not only learning more deeply the factors that may bear on the illness, but also showing respect for the patient's perspective in a way that leads to an effective partnership in treatment.
Dr. Murphy reminds us of the words of Francis Peabody, one of the lions of medicine at both Johns Hopkins and the Harvard Medical Service, "The secret to patient care is to care for the patient." Dr. Murphy's advice to undergraduate college students and medical students is, "know who you are, know what you love, and do what you love." He also claims that for those headed to medicine, while meeting the essential requirements in the sciences, it may be equally important to major in the humanities, polish communication skills, and to enjoy interactions and connections with other people. He emphasizes that physicians, in spite of being in command of powerful tools of diagnosis and treatment, must retain a large measure of compassionate humility, remembering in the words of Edward Livingston Trudeau that the physician's role is "to cure sometimes, to relieve often, and to comfort always."
He has practiced infectious disease consulting in Reno with Sierra Infectious Diseases since 1999. Dr. Murphy is a fellow of the American College of Physicians and the Infectious Disease Society of America, and fellow of the Royal Society of Medicine, London. He chairs the WCMS Allied & Public Health Commission, which works closely with NSMA's Public Health Commission. These committees are currently working on climate change and health, promoting current legislation on maternal mortality review, proposals for addressing opioid addiction, societal help for sex workers and victims of trafficking, advancing immunization, addressing the threats of vaping and tobacco products, and restricting access to guns for those who demonstrate a threat to themselves and others. Dr. Murphy also serves as medical advisor to the Washoe County Health District. Dr. Murphy is a clinical professor of medicine at the University of Nevada Reno School of Medicine.
Dr. Murphy received his Bachelor of Arts degree from Johns Hopkins University, Baltimore, and a simultaneous M.A. in comparative literature and creative writing. He went on to receive his medical degree at the University of California at Los Angeles in 1970, where he was valedictorian. He divided his residency in internal medicine between University Hospitals, University of Wisconsin, Madison, and Parkland Memorial Hospital in Dallas. In between he served in the Virology Laboratory at the Centers for Disease Control. He completed his fellowship in infectious diseases at the University of Texas, Southwestern Medical School, Dallas, and remained on the faculty there through 1983, before entering private practice in Dallas at the inception of the AIDS epidemic.
---
Coronavirus Resource Center
NSMA's C-19 page, in an effort to prepare and protect our state, our providers, our patients, and our staff members from COVID-19, it is important that each of our members have access to telemedicine technology to use with their patients. For nvdoctors.org latest information on COVID-19 Please Click Here
---
ATTENTION MEMBERS
We are happy to announce our new database is up and running. To login please click here for step-by-step instructions on how to setup your account.
Thank you for your patience!