NJ Designs, Wins National Graphic Design Award for the WCMS Communicator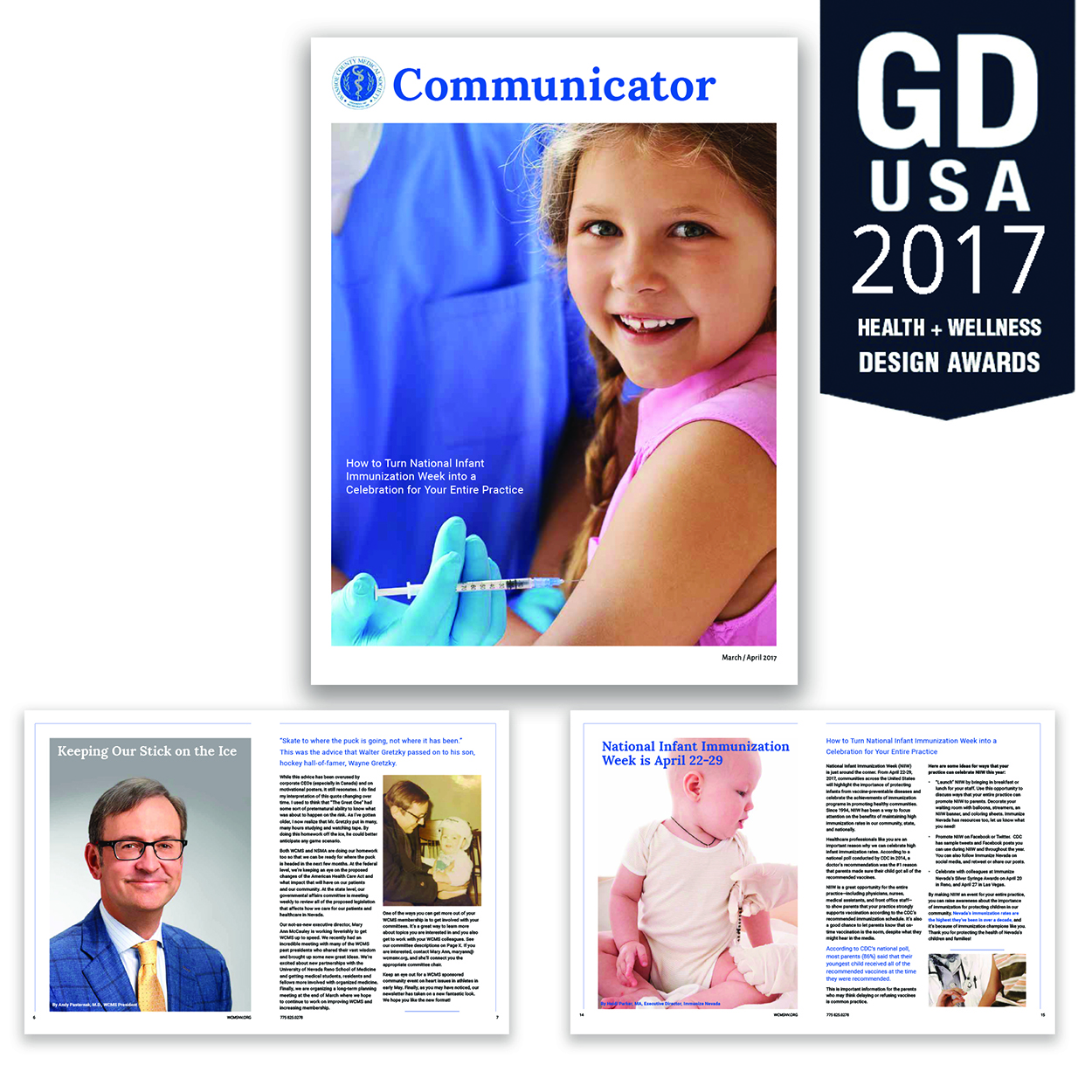 Graphic Design USA (GDUSA) has awarded NJ Designs' founder and creative director Natalie Ede with an award for her outstanding design work on the Washoe County Medical Society's bi-monthly publication the WCMS Communicator and will be featuring her award-winning design in their latest publication GDUSA.
"I am honored to receive such high praise for my work," said Natalie. "My goal as a designer is and has always been to make sure my clients are happy. To also receive national recognition for my work for the fourth time in my career is truly icing on the cake."
"We have a much more engaging newsletter with this new design," said Mary Ann, WCMS executive director. "This national recognition is a great testimony to Natalie's talent."
This year there were over 1,000 entries; a highly selective 15 percent were selected for recognition.
Graphic Design USA (GDUSA) has published the winners of its 2017 Health + Wellness Design Awards™. These awards honor designers in the critical areas of our economy including: traditional medicine and healthcare, healthy lifestyles and nutrition, and public health messaging.
For more than five decades, GDUSA has sponsored design competitions that spotlight areas of excellence and opportunity for creative professionals. The Health + Wellness Design Awards are open to everyone in the graphic arts community — including graphic design firms, advertising agencies, in-house corporate and institutional designers, publishers and other media.
"Graphic design is among the fastest growing professions in this country," said GDUSA Editor Gordon Kaye. "Its importance is increasingly recognized in commerce and culture."
According to Gordon, the winners of the Health + Wellness Design Awards are among the most talented and effective designers working today. "They are the best and brightest the creative community has to offer," said Kaye.
An awards showcase appears in print, the web, as well as in digital format for desktop, tablet and phone. The Sponsor of this year's competition is Erickson Stock.